I was trying to think of where to post random art things, and with Multiplex now concluded, it didn't really make a lot of sense to do that there. So I revamped my…
Hi, I'm Gordon.
I'm an artist or something like that. I used to write and draw
Multiplex.
You can see more of what I'm up to on
Patreon
.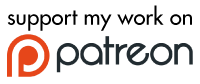 Categories