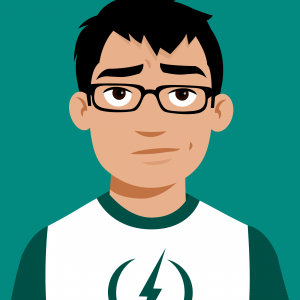 I'm a professional illustrator, 2D animator, print and interactive designer, and production artist with over 20 years of experience, currently living in the Boston area. I have a Master of Fine Arts degree in Design (Graphic Design track, Interactive Design emphasis) from the University of Minnesota–Twin Cities; as a graduate student, I focused on interactive publication design and visual storytelling in academic or educational contexts, and I minored in Moving Image Media Studies.
I wrote and drew Multiplex, a comic strip about the staff of a movie theater, from July 2005 through April 2017. It has three collections in print. An award-winning animated web series called Multiplex 10 that I executive produce, direct, animate, and edit launched shortly thereafter.
I am actively seeking freelance/short term contract work (illustration, animation, or writing), but I would consider a long-term contract or full-time position for the right company! You can find my résumé on this site or review my full employment history on my LinkedIn page.
If you have any projects or positions you'd like to discuss, please email me!